Istanbul Pride march must go ahead unhindered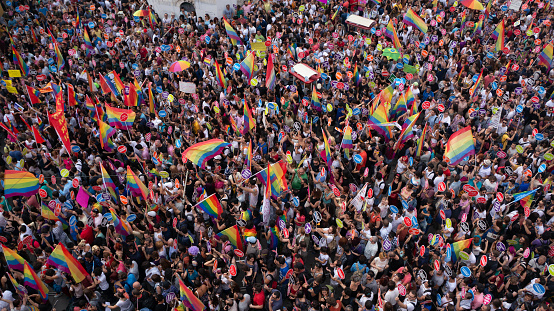 Joint public statement from Amnesty International, ILGA-Europe and All Out calling on authorities to ensure istanbul Pride takes place
As the annual Istanbul Pride due to take place on Sunday 1 July approaches, Amnesty International, ILGA-Europe and All Out stand in solidarity with Turkey's LGBTI+ communities and their allies, calling on the authorities to ensure Istanbul Pride march takes place without any unlawful restrictions.
Björn van Roozendaal, Programmes Director for ILGA-Europe said:
"In 2018, Pride is undoubtedly a litmus test for democratic values – a test that over the past few years, Turkey has failed to meet. It's particularly disappointing when you consider the incredible history of Pride in Istanbul. Sadly, the restrictions on LGBTI public events since then in the region are indicative of the attempted erosion of civil society organising and human rights. History is repeating itself.
And make no mistake, this is harming all of society, not just the LGBTI communities and their allies. Attacks on activism and dissenting voices, a constant refusal from authorities to engage with their citizens, and persistent disregard for fundamental rights – this is something that should provoke a reaction from all communities, not only the LGBTI movement.
---